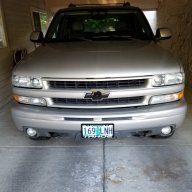 Joined

Oct 9, 2020
Messages

80
Reaction score

4
Location
I am a member at the Tahoe/Yukon Forum and have a build thread there where I have gone almost completely thru the entire outside of the rig and some of the inside. I have taken working components off of steering, suspension, cooling system, oiling system, entertainment and a/c-heater controls, brake system-hydro-boost, fuel system, charging system, evap system, exhaust system, emissions system, exterior paint and even installed Hellwig performance front and rear sway bars.
This was done not because parts were worn out but because, after running shops for 25+ years and working as a tech before that for 10+ years, I am a firm believer of replacing parts as a maintenance schedule because I know eventually they all wear or fail and can leave a person stranded.
In this whole process I have used nothing but Genuine GM parts and the best aftermarket parts available. I have gobs of pics and will be happy to share. Only if interested.....there is no Build Thread here and I have reached out to try and get that here at the Tahoe Forum.
This is only meant as a guide but I do have to say that, BY FAR, this SUV handles and stops and performs better than new and I have been told that many times by friends that have ridden in it. It is a 2005 Z71 with 136k miles and is flawless, except for a rub or two on the paint.