i wanted to introduce myself. my name is Patrick and i have a 2003 Suburban. i am on a couple other chevy/tahoe/suburban boards, but i just recently found this one. of course i don't have a tahoe, but in many regards my suburban shares a lot of the same characteristics so i'm sure i can learn some things here just as well.
we bought it from a dealership back in March with 60k miles for $12k. it was owned by an older couple that only buys/owns Suburbans. they replace them every couple years. it was in perfect condition inside and out. not a scratch inside or out. the color was not our first choice, but it has grown on me quite a bit, and after some of the upcoming mods are done, it will really stand out.
this was a day or two after we bought it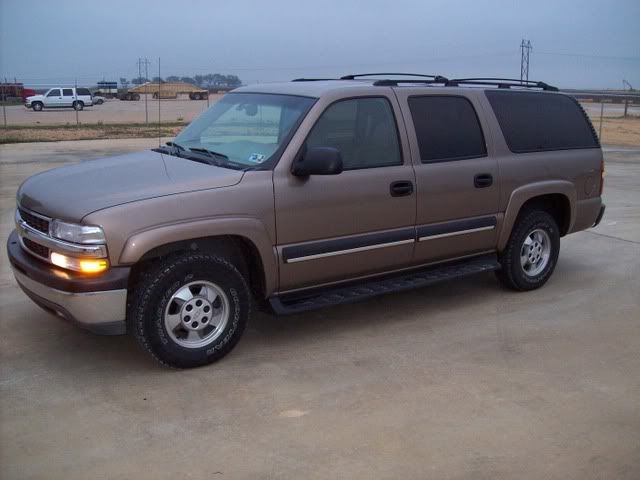 i am not one to leave vehicles stock (i am a Jeep owner afterall), so it was only after 2 months of ownership that i collected some parts to do a little lifting. this burb is my daily driver and family hauler (wife and son), so unfortunately i could not do as much lift because while i'm 6'5" and have no problems getting in and out, my wife would kill herself trying to get in if it was any higher.
i decided to go with the Ford t-bar adjuster keys and Suspension Maxx 1.5" rear coil spacers with extended length KYB Monomax shocks. i was wanting to add a 3" body lift, but as mentioned above, that would've just been pushing it.
Ford keys - good for at least 3" of lift up front
Suspension Maxx 1.5" spacers - good for 1.5" of lift in the rear
KYB Monomax front shocks - good for lifted tahoes and suburbans
after the installation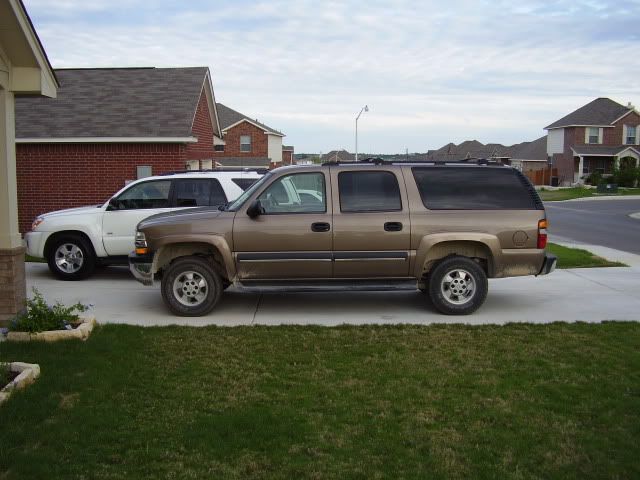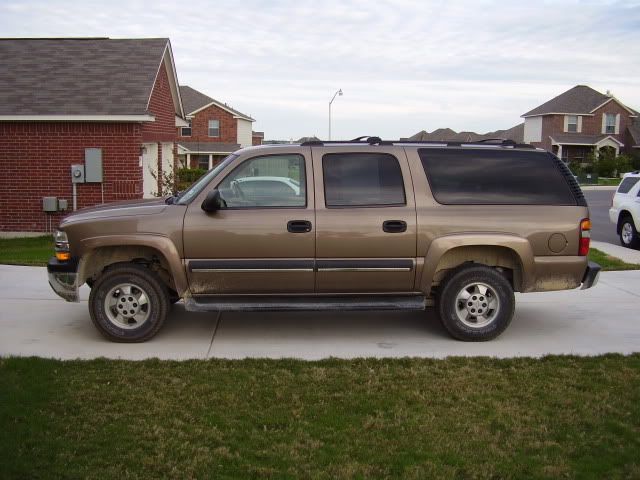 i gained 3.5" of lift up front, so combined with being 2" lower stock, and adding the 1.5" spacer in the rear, it is level front to back.
between the lift and the stock tires being worn out, it was definitely time for some new rubber. i was wanting to hold out for the new style BFG MT KM2s, but the tires were getting dangerous and were not going to last long enough for them to come out in the size i needed. i went ahead and got the regular BFG MTs which i have run on one of my Jeeps and love, so there was no question there.
they are the 285/75r16 which is basically a 32x11.50r16. just about as close to a 33" tire i could get in the BFG MT while running them on the stock wheels for a while.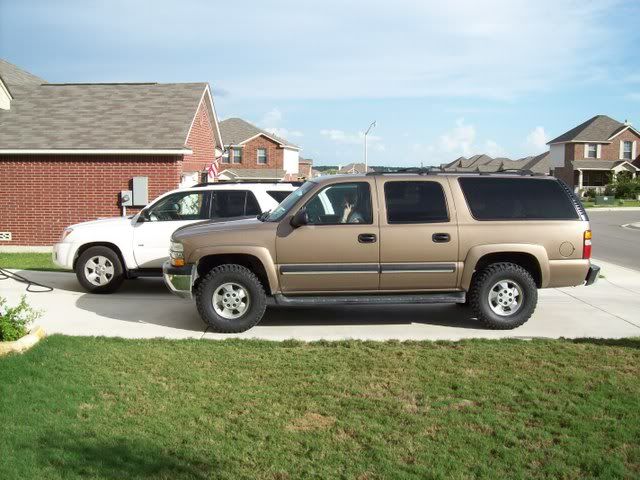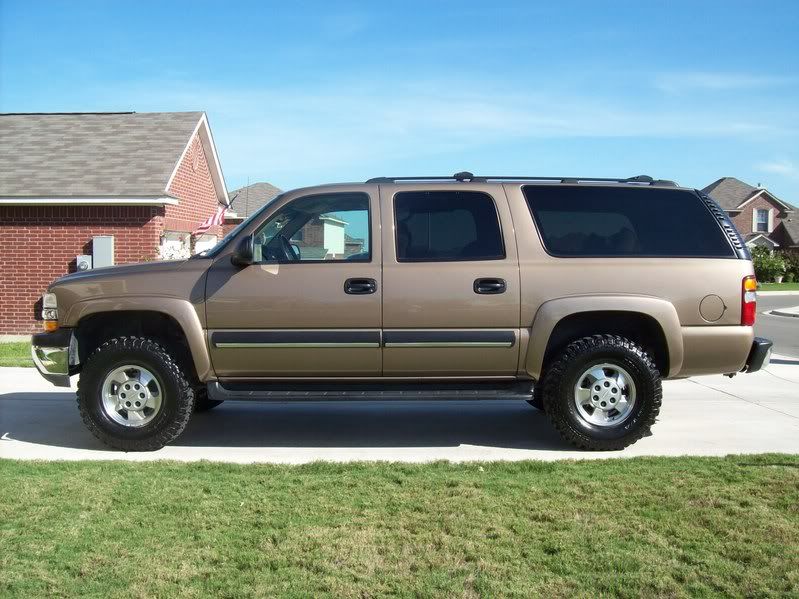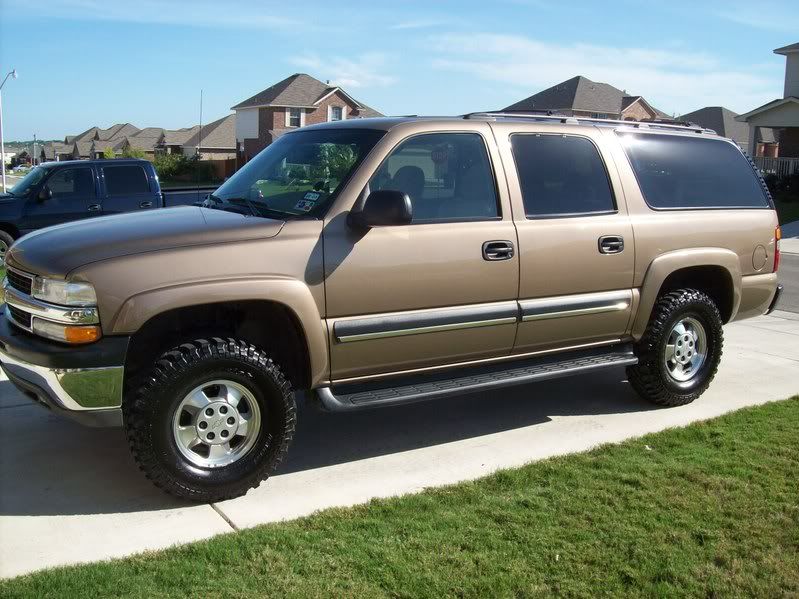 that is how it sits now. i will be adding some AR Predator rims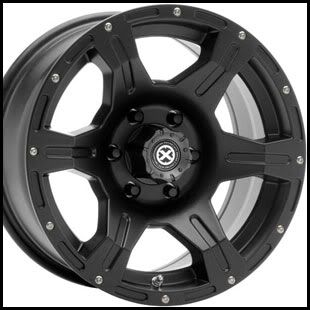 and some N-Fab steps to replace the plastic factory steps. i could do without steps at all, but no one else that rides in this could.
i would like to swap on some bumpers (ARB or Buckstop), but i'm not sure that is going to happen. at very least i would like to throw a simple light bar on the front and powdercoat the stock bumpers black.
i hope to get started on the stereo at some point. i have the amps and sub, but need to figure out the headunit and speakers.
i really wanted to add a 3" body lift (not too in to body lifts, but a good solution for a suburban) to run some 35"s, but i think the ~33s and this height will be just fine....not to mention i would not even be able to fit in the parking garage at work if i was any higher.
Last edited: