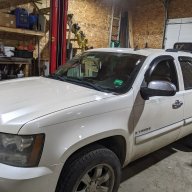 Joined

Aug 9, 2022
Messages

2
Reaction score

0
Location
Hello everyone, I have an 08 Tahoe with an LMG 5.3. It's getting tired at 200k and I'm looking at getting an engine swap ready for the day it goes. I also have a 2013 Sierra with an LC9 with around 120k that has a bent frame and some front end damage. After the accident I brought it in the garage and the engine in the Sierra rolled over and sputtered for a few seconds before I shut it down. I didn't want to run it too long without knowing 100% of the damage but in the accident both the engine and trans lost no fluids at all. Before I tare into this project I was wondering if the swap would even be possible. I know there's a few differences like cast vs aluminum block, newer one has VVT and a different MAF.
I have a few other questions. (reminder this is an 2008 LMG to 2013 LC9 swap)
Would I use the ECM from the 08 Tahoe or the 13 Sierra?
Are the connections the same?
Is it plug and play minus the mentioned differences above?
Can the ECM from the Sierra be married to the Tahoe BCM?
Do I take the entire engine harness from the LC9 or add the missing wiring to the LMG harness?
Does anyone know if HP Tuners software can do all the necessary tuning or do I just bring it to a dealer when I'm done and have them do it with a TechII?
Any other useful information would be appreciated! Thank you!