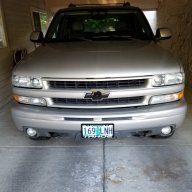 Joined

Oct 9, 2020
Messages

80
Reaction score

4
Location
I am not a newbie to Tahoe's but am to here. I belong to a couple other forums and am glad to have finally been activated here. I joined on the 9th of this month. I heard that activation is slowed by the dealing with spammers here. Hate them turds.
I am a retired ASE Master Tech and ASE Service Consultant. I am way more familiar with the NBS Tahoe's than the 2007 and newer but some mechanical aspects transfer over for years. At almost 68 I still work in the self storage industry in Oregon.
I own a 2005 Tahoe Z71 with 130k miles on it. I recently got it and sold my 2002 Tahoe LT. Am in the process of getting it all where I want it. I have replaced all trans cooling lines, belts, idler and tensioners, all rotors and pads and park brake shoe assembly, front bank 1 sensor that had just recently went intermittently dead and caused a rough idle at stops but will be changing the other three within the next two weeks, plugs, wires, air filter, cleaned throttle bore, MAF and MAP, flushed and changed out all the brake fluid, power steering fluid, front and rear diffs, transfer case, did a trans service with a new filter and gasket but did not flush trans fluid and during that process found a bent lower passenger rear locating arm that looked like some idiot had used a floor jack on it. I am replacing all 4 rear arms when I do the sensors and also am replacing the third brake light, has power but will not light up, driver's side outside rear view mirror vibes at highway speeds so am installing a whole new unit and the aftermarket Kenwood radio is junk so I found a pristine OE radio/cd player that is programmed to my VIN and unlocked, to install.
I had been looking for a NBS Z71 and found this one 1/2 mile from my American Legion post that I belong to. I am a Vietnam Vet and so was the seller so we worked out a great sale price and I took it home.
I would love to upload some pics but your system says the file is too large.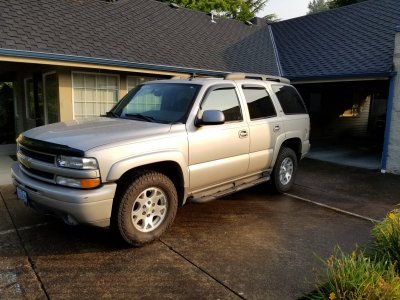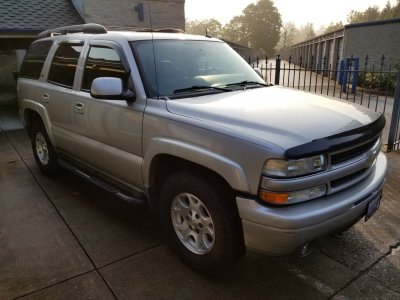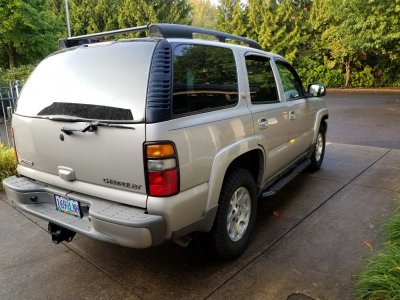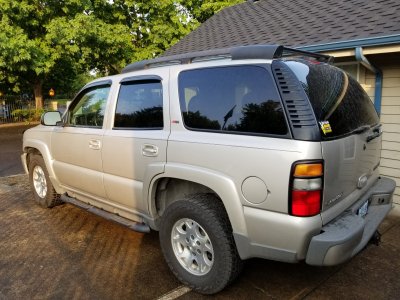 Last edited: