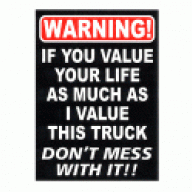 Joined

Aug 29, 2007
Messages

6,467
Reaction score

3
Location
Once the diode is in place, the neg current from the BCM's high beam signal wire will also trigger the signal wire for the low beams. These wires close the contacts on their respective relays, powering up the lights.
ok COOL. so it wont over load the high beams and blow somthing up. :sla:
o yea, i just installed 100 watt offroad halagons, do you think thats gunna mess up somthing when i do this mod??
now are there two wires i can put another diode to keep the fogs on???
this thred should be a sticky.
Last edited: